HARBOUR SPRINGS, PUERTO PRINCESA PALAWAN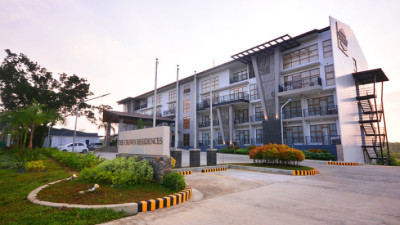 Ref : Reference#100
Address :
Sta. Lourdes Puerto Princesa, Palawan,
PALAWAN

| | |
| --- | --- |
| Selling price | : Php 2,970,000 |
| Down Payment | : Php 30 |
| Reservation Fee | : Php 50,000 |
Description :
WELCOME TO THE CROWN RESIDENCES  

at

Harbour Springs Resort and SPA Village.



Private Residences Club Luxury Resort Village Puerto Princesa Palawan, Philippines.

 
is now operational.


The Underground River - it can be pass through during High Tide season

Puerto Princesa Subterranean River National Park.


A new Seven Wonders of Nature, The UNESCO world heritage-listed Puerto Princesa Underground River flows through a limestone cave system before spilling into the South China Sea. A paddle through this earie ecosystem, filled with other worldly cave formations and chattering bats, is one of the Philippines most unforgettable experiences.
Tubbataha Reefs Natural Park





The Tubbataha Reef Marine Park covers 96,828 ha, including the North and South Atolls and the

Jessie Beazley Reef. It is a unique example of an atoll reef with a very high density of marine species.

the north Islet serving as nesting site  for the birds and marine turtles. The site is an excellent example

of a pristine coral reef with a spectacular 100-m perpendicular wall, extensive lagoons and two coral islands.




Harbour Springs

is located at the crossroads of Palawan's most frequent hot spots. it's only 12 kilometers north
of Puerto Princesa City proper. It is right the entrance to the premier and most frequented Palawan destination -
the Honda Bay group of islets with its island-hopping attractions.

Harbour Springs

is right next to a Natural Hot
Springs Spa Resort and LEISURE Community which features the Hot  Springs of Sta. Lourdes,  Sta. Lourdes
is the gateway

to Honda Bay.




Harbour Springs

is a "first-of-the-kind" in Palawan, and most likely in the Philippines.




The Crown Residences is one of the Condotel property inside Harbour Springs development, and it is managed 
as Hotel management that every investor will be benefited with ROI, and with the privileged of 8 days
Free Occupancy in a year.



The Crown Residences Premier Condotel Suites and the Penthouse Luxury Suites


A Joint Venture of CDMC and Sta. Lucia Land, Inc.


The Crown Residences more available unit Penthouse Luxury Suites. for Fraction of the cost.
License to Sell No.  # 031489
The Lobby - the receiving area 


The Swimming Pool area
The Swimming Pool area with Sunken Bar

The Crown Residences at the Harbour Springs


The Spa Village - 1.5 Hectares - Adjacent to and Separate Development from the Crown Residences. It is Ongoing construction.

A separate Master Development Plan of CDMC together with the City Government of Puerto Princesa.

* Sta. Lourdes Natural Hot Springs


* Cove pool-with bar, stage for events, pod deck, and cove cabanas




* Wave pool




* Adult swimming pool with pool deck




* Outdoor events area for various occasions




* Series of massage pools-with massage huts




* Pavilion (reception area) - with indoor restaurant and Alfresco dining




* Main Spa and Shower area-separate men's and ladies' spa and shower,

with air-conditioned massage areas.
The Condotel Unit - Hotel Operational



The Crown Residences Premier Condotel Suites Unit. Only 2 units left at a very affordable price with ROI.

Floor Area: 34.00 sqm. 
Selling Price: Ph 3,916,528.00

Reservation Fee: Ph 50,000.00




Note

:

Price and Terms of Payment are subject to change without prior notice.



The Penthouse Luxury Suites- Fully-Furnished and Fully-Fitted (It can accommodate 12 person)



The 4th level of the Crown Residences shelters the exclusive Penthouse Luxury Suites, a portion of which you can own at only a fraction of the cost through the Co-Ownership program. Luxury living is what a lot of successful individuals aspire for. However, luxury hotels, luxury vacation homes, and luxury vacation packages come with a high price tag.



3 Bedroom
3 Toilet and Bath with Bathtub
1 Kitchen with 2 door Refrigerator
1 Gas range

Total Selling Price: 

Ph 2,970,000.00/ Fractional Shares


30% Downpayment
Reservation  Fee  Ph 50,000.00

The Penthouse Luxury Suites Unit- Bedroom 1- Second Floor

The Penthouse Unit - Bedroom 2 & 3 -Second Floor
The Penthouse Unit -Upper grand hallway Lobby
Dining Area and Living Area - Ground Floor

The Living Area and Dining Area - Ground Floor



The Penthouse Includes:



Three Bedrooms

Furnished with 3 40" LED TV, Cignal Cable, Telephone, Hairdryer, Minibar Ref, Coffee/Tea Set-up, Water Kettle, Night Lamp

3 King size Beds

3 Toilet and Baths

Vanity Desk with Mirror

Hot & Cold Water Shower

Bathtub

Wooden Dinner Table and Chairs

Sofa Set

Provision for Cooking (Electric Range with Hood)

2-Door Refrigerator
The Penthouse Kitchen area - WITH 2 DOOR Refrigerator -Gas Range
The Penthouse Unit -Toilet & Bath with Bathtub
Spa and Wellness Center
The Harbour Springs- Site Development Plan
What makes HARBOUR SPRINGS an excellent investment?.

Why real estate?
Land and property are among the safest investments in the world.

But not just any property.

Harbour Springs in Palawan offers The Crown Residences with Penthouse Luxury Suite that are made specifically to provide families with the vacation home that they deserve. Measuring up to 200. square meters, a Penthouse Luxury Suite is a complete home away from home, with 3 spacious bedrooms and all the facilities that are necessary for the most comfortable and enjoyable vacation. It's like one never left home! All of this is in the midst of the best island destination in the world!.


What is Co-Ownership?




Co-Ownership is co-owning

an asset or titled property with a pre-determined number of other co-owners. Each co-owner owns a fraction or portion of the asset or property. As a co-owner, you may transfer, will, or sell your specific fraction or percentage of the property to another just like you would be able to do if you were an owner of a whole property.




*There will be a

maximum of 12 co-owners

in one Penthouse Luxury Suites.

Eleven (11) of the 12 co-owners

shall each own an equal percentage in the unit. The developer has retained the majority percentage to allow individual co-owner to best enjoy their accommodation benefit whenever they need and want it.

*




We have more than 56 shares available for Penthouse Luxury Suites at a very affordable price per Fractional Share.

And it is payable within a 5 to a 7-year easy payment plan. Co-Ownership offers a practical affordable and intelligent way to enjoy and own a dream luxury vacation home is a premier tourist destination in the country. It is luxury living at a fraction of the cost.




3-Bedroom with 4 Toilet & Bath Luxury Penthouse with loft. Fully-Furnished and Fully-Fitted
4th Floor level



Floor Area: 193.01 sqm.  (401 - 402)
Floor Area: 205.70 sm.  (403 - 404 ; 407-408)
Floor Area: 196.60 sqm.  (405)


Floor Area:   94.83 sqm.  (406)

Floor Area: 189.62 sqm.  (409-410)



The Penthouse Luxury Suites

-Selling Price:

Ph 2,970,000.00/

fractional share.
With flexible Terms of Payment.




R

eservation  Fee: 

Ph 50,000.00





30% Downpayment with 15% Discount if Paid within  7 days.

70% Balance Payable in 5 to 7 years with 14% interest per annum.




NOTE

:

Price and Terms of Payment are subject to change without prior notice.
Just let me know if you need a Sample Price Computation and for the latest update.



A Restaurant and Coffee shop area -located on the 2nd floor of the Crown Residences, with stunning views where you can see the green environment of the Honda Bay area.
Harbour Springs a secure and gated community?




Yes, There will be 24-hours security in and around the perimeter of the project.

The entire

property will be privately gated and fenced.
Penthouse Luxury Suites

Fractional Ownership (Co-Ownership)

Fractional Ownership has owned an asset or property with other Co-owners. Each Co-owner owns a fraction of the asset or property. As a Fractional Owner, you may transfer, will, or sell your specific fraction or interest on the property to another, the same as you would do as a whole property owner.
Fractional Property- Fractional property ownership offers the benefits of owning more properties without paying 100% of the total cost of the property. Buyers own a fraction of the property which entitles them to a pre-agreed usage of the same. Maintenance costs are likewise co-shared among Co-owners. Buying into a fractional property offers the opportunity to also swap some of a Co-owner's allocated use through a fractional exchange network.
Fractional Ownership VS. Timeshare Fractional Ownership is separate and different from timeshare. With a timeshare, there is no actual ownership of a tangible asset involved, but instead, you are purchasing only the right to use a property. With Fractional Ownership, you are buying an actual percentage of a specific and actual property. Your ownership of the fraction then entitles you to use the property for a specific time per year, the same as the other Co-owners. This is a benefit that all Co-owners are entitled to. The nature of their co-ownership divides all co-ownership benefits proportionately among themselves.
Benefits of Fractional Ownership
1. Affordability As the assets are shared or co-owned by several individuals, the purchase cost itself is dramatically reduced. For example, the cost of a comfortably-furnished condominium unit of 200 square meters located in a premier tourist destination, and maybe valued at 20 Million Pesos, can now be shared by multiple Co-owners, so that if there are 20 Co-owners, the original acquisition cost of 20 Million Pesos will now be so much more affordable at only 1 Million Pesos per fraction/Co-owner.
2. Lower cost of maintenance - All maintenance costs for the property are shared by all Co-owners, reducing the amount that each Co-owner would have had to shell out if he was a sole owner. All aspects of maintenance costs are split among Co-owners, such as common utilities and services, ensuring all features are always kept up to standard, painting, periodic clean-ups, periodic check-ups of the machine, upkeep and upgrade of appliances, securing the worthiness of electrical and other facilities.
3. Lower cost of ownership All aspects of the cost of ownership are likewise now shared by several Co-owners, dramatically reducing the amount of government taxes, insurance premium payments, and other related costs that each Co-owner would have had to pay if he owned the property solely.
4. Comfortable lifestyle at a fraction of the cost Fractional Ownership allows one to enjoy the lifestyle that he could only dream about previously. What used to be seen as something very extravagant and impractical is now rendered practical, affordable, and within easier reach of a greater number of people. One can now become a Co-owner of a 20-Million-Peso property for only 1 Million Pesos if there were saying 20 Co-owners, something that might not have been previously readily available to him.
5. Maximizing resources Cost-conscious individuals are allowed to make the most out of their resources. By buying into Fractional Ownership, they may enjoy the luxurious lifestyle that they have always wanted without putting all their resources into just one asset. They then have the flexibility to spread their resources among many properties and other interests.
6. Share the comfortable lifestyle with loved ones The luxurious lifestyle or the experience that most only dream or read about in lifestyle magazines, is now available to a wider reach of end-users through Fractional Ownership, and can now be shared and enjoyed with loved ones.
7. Practical way of buying property Fractional Ownership is an ideal and intelligent way to get the most out of investment by purchasing only a fraction of the total asset or property. One can now buy only what he needs and only what he wants to use. For example, if you need to make an omelet, you can just buy some eggs and not the whole chicken. Or if you want to travel overseas, you can just buy an airline ticket, not an entire plane.
8. Appreciation of real estate property - As the property is now more affordable and shared by multiple Co-owners, there is a wider reach among end-users. The possibility of value appreciation is also increased as the lower acquisition cost contributes to a higher demand, consistently and continuously increasing its value. Over the years, your initial investment may double or even triple, giving you more value for your money, and higher earnings if you intend to eventually sell your fractional property/ies.
9. Flexibility to buy multiple fractions

-

Fractional Ownership is a great way to invest 

in property. Because of the lower cost of owning a prime property, there is a higher demand for the project, boosting its value appreciation over time. The buyer is now allowed to invest in multiple fractions which he may later sell at a higher price while still maintaining the option to keep one or a few fractions for himself for his personal use, which he cannot do with a whole property.
10. Safe and secured acquisition

-  Just like any property, the name of the Fractional Owner is
reflected in the title which recognizes his specific fractional interest on the property, thereby ensuring it to be a perpetual, safe, and secure asset or investment, ready to be transferred, sold, or willed to anyone at any time, provided legal requirements are satisfied.
11.

Flexibility in assigning fractions to loved ones or heirs.
With Fractional Ownership, it is easier to assign one's heirs their respective fractions/s of a property without the complications of jealousy, percentage sharing of assets,

assets, among other difficulties.
How near is Harbour Springs to Palawan's

major tourist spot?

Honda Bay  wharf
1.5 km.
Travel Time
5 minutes
Robinsons  Mall
9 km.
Travel Time
10 minutes
Downtown Puerto Princesa City
12 km.
Travel Time
20 minutes
Puerto Princesa Underground River
57 km.
Travel Time
1.5 hours
Invest now, while the price are still very affordable

Looking forward to hearing from you soon.

Thank you.
Mobile:  +63 916 654 2086  (Viber or WhatsApp)
Mobile:  +63 908 651 6598
Property Search
Featured Properties
Contact Details
Mobile #:  +63 908 651 6598- (FaceTime)
Mobile #: +63 947 766 6026 - Smart
Mobile #: +63 916 654 2086 - Viber & WhatsApp
PLDT Phone# : +63 2 871 6589 - Manila
PLDT Phone# : +63 46 683 6915 - Cavite

Emails:
[email protected]
[email protected]

Yahoo id: florranola
Skype id: flor_ranola
Twitter: @deoandflor
Instagram: @deoandflor
Who's Online
We have 38 guests online